Black men's arrests at Philadelphia Starbucks prompt city probes amid national outcry
April 14th, 2018
PHILADELPHIA (PA) — Philadelphia's mayor's office and Police Department have begun separate investigations into the arrest of two African American men waiting to meet an acquaintance at a Center City Starbucks on Thursday after a video of the incident was widely shared on social media, triggering national outrage. Mayor Kenney said in a statement Saturday afternoon that the city's Commission on Human Relations has been asked to examine Starbucks' policies and procedures, including whether its training includes safeguards against "implicit bias," or unconscious stereotyping.
"We are reaching out to Starbucks to begin a discussion about this," he said.
A police spokesman, meanwhile, said the department's internal affairs unit is probing the incident at the coffee shop at 18th and Spruce Streets. Police Commissioner Richard Ross said earlier Saturday that officers had acted appropriately.
The video, which was posted by Philadelphia-based author Melissa DePino on Thursday, shows at least six Philadelphia police officers taking the two men into custody without resistance. By 5 p.m. Saturday, the video had gathered nearly 4.3 million views.
In the clip, the two men can be seen being escorted from a table at the cafe in handcuffs while a white man, who has been identified as Philadelphia real estate investor Andrew Yaffe, asks why officers were called and attempts to explain to police that the two men were waiting for him.
"What did they get called for, because there were two black guys sitting here, meeting me?" Yaffe asks in the video. "What did they do?"
Commissioner Ross said in a video posted to Facebook on Saturday afternoon that police responded around 4:40 p.m. Thursday to a 911 call reporting a disturbance. The men had refused to leave the cafe after asking to use the restroom without placing an order, which violated Starbucks policy, staff members told police.
The men were detained after they refused officers' requests to leave as well, Ross said.
"The police did not just happen upon this event — they did not just walk into Starbucks to get a coffee," he said. "They were called there, for a service, and that service had to do with quelling a disturbance, a disturbance that had to do with trespassing. These officers did absolutely nothing wrong."
DePino said in an interview with the Inquirer and Daily News that she posted the video, which was recorded by a woman sitting next to her at the coffee shop, immediately after the men's arrest, which she said involved about eight officers.
"They did not raise their voices; they were not confrontational," DePino said of the men. Police "put them in handcuffs and essentially perp-walked them out of the store."
DePino said she was told by Yaffe that the men were family friends of his and that they had been waiting to meet him about a real estate deal. Reached by phone, Yaffe declined to comment.
Attorney Lauren Wimmer, who agreed to represent the men pro bono after being contacted by Yaffe, said she was told at 12:30 a.m. Friday that the two were being released from custody. She declined to identify the men.
Ross said the men were released after officers became aware that Starbucks "no longer was interested in prosecuting."
As the video of the men's detention spread, Starbucks was accused by some of tolerating racism by its staff. Many on social media asserted that the men would not have been treated similarly if they had been white.
"Waiting in a Starbucks while black is a crime?" tweeted the Roots' Questlove, a Philadelphia native.
The 18th and Spruce location was busy Saturday afternoon despite scattered protests outside the coffee shop. Demonstrator Toni Bowers, who lives nearby, said she was "outraged" by the incident.
As pressure grew, Starbucks released a statement Saturday expressing regret about the incident.
"We apologize to the two individuals and our customers and are disappointed this led to an arrest," the chain said. "We take these matters seriously and clearly have more work to do when it comes to how we handle incidents in our stores. We are reviewing our policies and will continue to engage with the community and the police department to try to ensure these types of situations never happen in any of our stores."
Kenney said in his Saturday afternoon statement calling for a review of Starbucks policies that the incident "appears to exemplify what racial discrimination looks like in 2018."
"Like all retail establishments in our city, Starbucks should be a place where everyone is treated the same, no matter the color of their skin," he said. "Starbucks has issued an apology, but that is not enough."
Police spokesman Troy T. Brown, meanwhile, said the department's internal affairs investigation is "active and ongoing."
"We are a department that's always looking to enhance and improve upon ways that we do things," Ross said in his Facebook video. "In cases like this, we will examine this one, and similar ones to see if there are things that we can do better."
A Quiet Exodus: Why Black Worshipers Are Leaving White Evangelical Churches
March 9th, 2018
FORT WORTH (NYT) — Charmaine Pruitt wrote the names of 12 churches on a sheet of paper, tore the paper into 12 strips, and dropped them into a Ziploc bag. It was Sunday morning and time to pick which church to attend.
This time of the week two years earlier, there would have been no question. Ms. Pruitt, 46, would have been getting ready for her regular Saturday afternoon worship service, at a former grocery store overhauled into a state-of-the-art, 760-seat sanctuary. In the darkened hall, where it would have been hard to tell she was one of the few black people in the room, she would have listened to the soaring anthems of the praise bands. She would have watched, on three giant screens, a sermon that over the course of a weekend would reach one of the largest congregations in the country.
But Ms. Pruitt has not been to that church since the fall of 2016. That was when she concluded that it was not, ultimately, meant for people like her. She has not been to any church regularly since.
In the last couple of decades, there had been signs, however modest, that eleven o'clock on Sunday morning might cease to be the most segregated hour in America. "Racial reconciliation" was the talk of conferences and the subject of formal resolutions. Large Christian ministries were dedicated to the aim of integration, and many black Christians decided to join white-majority congregations. Some went as missionaries, called by God to integrate. Others were simply drawn to a different worship style — short, conveniently timed services that emphasized a personal connection to God.
The fruits could be seen if you looked in the right places, particularly within the kind of nondenominational megachurches that gleam from the roadsides here in the sprawl of Dallas-Fort Worth. In 2012, according to a report from the National Congregation Study, more than two-thirds of those attending white-majority churches were worshiping alongside at least some black congregants, a notable increase since a similar survey in 1998. This was more likely to be the case in evangelical churches than in mainline Protestant churches, and more likely in larger ones than in smaller ones.
Then came the 2016 election.
Black congregants — as recounted by people in Chicago, Los Angeles, Atlanta, Fort Worth and elsewhere — had already grown uneasy in recent years as they watched their white pastors fail to address police shootings of African-Americans. They heard prayers for Paris, for Brussels, for law enforcement; they heard that one should keep one's eyes on the kingdom, that the church was colorblind, and that talk of racial injustice was divisive, not a matter of the gospel. There was still some hope that this stemmed from an obliviousness rather than some deeper disconnect.
Then white evangelicals voted for Mr. Trump by a larger margin than they had voted for any presidential candidate. They cheered the outcome, reassuring uneasy fellow worshipers with talk of abortion and religious liberty, about how politics is the art of compromise rather than the ideal. Christians of color, even those who shared these policy preferences, looked at Mr. Trump's comments about Mexican immigrants, his open hostility to N.F.L. players protesting police brutality and his earlier "birther" crusade against President Obama, claiming falsely he was not a United States citizen. In this political deal, many concluded, they were the compromised.
"It said, to me, that something is profoundly wrong at the heart of the white church," said Chanequa Walker-Barnes, a professor of practical theology at the McAfee School of Theology at Mercer University in Atlanta.
Early last year, Professor Walker-Barnes left the white-majority church where she had been on staff. Like an untold number of black Christians around the country, many of whom had left behind black-majority churches, she is not sure where she belongs anymore.
"We were willing to give up our preferred worship style for the chance to really try to live this vision of beloved community with a diverse group of people," she said. "That didn't work."
It has been a scattered exodus — a few here, a few there — and mostly quiet, more in fatigue and heartbreak than outrage. Plenty of multiracial churches continue to thrive, and at some churches, tough conversations on race have begun. The issue has long shadowed the evangelical movement. The Rev. Billy Graham, who died last month at 99, bravely integrated the audience at his crusades and preached alongside Dr. Martin Luther King Jr., but kept silent at key moments.
But for many black churchgoers, the current breach feels particularly painful. Lecrae, a prominent black Christian hip-hop artist, has spoken openly of his "divorce" with white evangelicalism, Christian counselors have talked frankly of the psychological toll of trying to hang on in multiracial churches and others have declared it time to consider the serious downsides of worship integration.
"Everything we tried is not working," said Michael Emerson, the author of "Divided by Faith," a seminal work on race relations within the evangelical church. "The election itself was the single most harmful event to the whole movement of reconciliation in at least the past 30 years," he said. "It's about to completely break apart."
'This Is What I Need'
Ms. Pruitt had been a churchgoing Christian since the mid-1990s, first joining a mostly black megachurch in Dallas, where she was on the dance team. Inspiration began to flag after some years there, and one night she was drawn to a pastor whom she saw on television. He was, she later learned, Robert Morris of Gateway Church.
Gateway started nearly 20 years ago with a prayer group in Pastor Morris's living room, and has in the past two decades grown to become a $140 million ministry, drawing upward of 31,000 people a week to six campuses in the Dallas-Fort Worth area.
The scale and thoroughness of the operation are extraordinary: the attractive ledgestone-and-wood arena — with a coffee kiosk serving a Gateway blend — at the church's Southlake, Tex., headquarters; the worship music booming over a first-class sound system; the robust programs for children, single parents and a host of other groups.
Above all, for many members, there are Pastor Morris's weekly messages themselves: wry, often self-deprecating, sprinkled with biblical scholarship and often affectingly personal.
"This is what I need right now," thought Ms. Pruitt, moved to tears when she first went to orientation programs at the church. Members who happened to sit near her at worship came to ask about her when she missed a service, and some came to her grandmother's wake. One couple began to refer to her as a daughter.
The congregation is mostly white, but not entirely; the pastors at two of the six satellite campuses are black men. Church videos and promotional materials are intentionally filled with people of color. The goal, says Pastor Morris, who is white and has a black son-in-law, is to have a church that looks like heaven as described in the book of Revelation: "from every nation, tribe, people and language."
The general whiteness of the congregation is not something that every black worshiper dwells on anyway. To grow up black, said Carla McKissic Smith, who started going to Gateway in 2009, is to get used to being in the minority.
As the headlines of the outside world turned to police shootings and protest, little changed inside majority-white churches. Black congregants said that beyond the occasional vague prayer for healing a divided country, or a donation drive for law enforcement, they heard nothing.
Tamice Namae Spencer, who used to attend a mostly white church in Kansas City, said her fellow congregants did not seem to even know the name Trayvon Martin, the black teenager killed in Florida at the hands of George Zimmerman in 2012. And when Ms. Spencer brought up his death, she said white church members asked why she was being divisive.
"It's not even on your radar and I can't sleep over it," she remembered thinking. "And now that I'm being vocal, you think I've changed."
At Gateway, black worshipers would discreetly ask one another if they were the only ones who noticed that one could talk about seemingly anything but racism, a feeling one former congregant described as an out-of-body experience.
Jeremiah White, who is black, was so excited about Gateway when a friend brought him there years earlier that he insisted his parents come. Now a teenager, with his parents volunteering at the church for 12-hour days on weekends, Jeremiah had also begun to notice "the little details": an associate pastor, trying to get the attention of a black man, jokingly referring to him as the one God left in the oven a little long; a youth leader suggesting Jeremiah must be new because he was black.
In the summer of 2016, Jeremiah made a cartoon and sent it to church leaders, depicting an elephant sitting on a man, squeezing out his insides. The elephant was labeled "Racism"; the man's insides were labeled "Gateway Church."
Politics From the Pulpit
Pastor Morris had become aware of the disquiet himself, mainly from listening to black pastors at other churches. Still, while they would meet and talk and pray, not a lot would happen.
"We didn't talk about it much before because we didn't know," he said of whites generally, in a recent interview at one of Gateway's satellite campuses. "We just thought, 'O.K. there was a tremendous racial problem in America. The civil rights movement came, laws have been passed now and we're over that now. We passed it.' What has happened in the last few years is many white pastors are beginning to realize we never dealt with this scripturally. We never truly repented."
In July 2016, days after a black man enraged about police brutality shot and killed five Dallas police officers, Jeremiah's father had breakfast with one of the church's senior pastors. He spoke to him frankly about race and his frustration with the church's silence.
After that breakfast, church staff began discussing how to face matters directly. In meetings over the coming weeks, black staff members would talk of their own past struggles with racism and the grim parts of American history that still went unacknowledged. A pastor at Ms. Pruitt's church campus pledged from the pulpit to tear down racism, one conversation at a time.
___
By CAMPBELL ROBERTSON OF THE NYTIMES.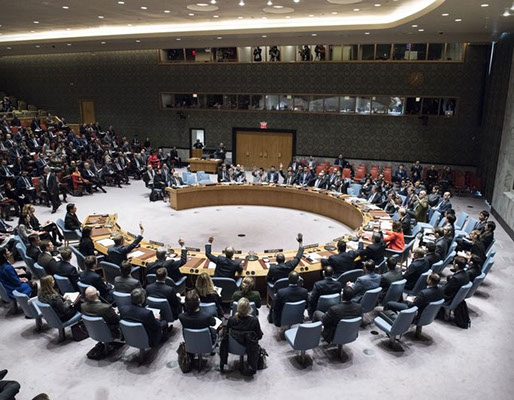 UN denounces US recognition of Jerusalem as Israeli capital
Dec 21st, 2017
UNITED NATIONS (AP) — The U.N. General Assembly voted overwhelmingly Thursday to denounce President Donald Trump's recognition of Jerusalem as Israel's capital, largely ignoring Trump's threats to cut off aid to any country that went against him.
The nonbinding resolution declaring U.S. action on Jerusalem "null and void" was approved 128-9 — a victory for the Palestinians, but not as big as they predicted. Amid Washington's threats, 35 of the 193 U.N. member nations abstained and 21 were absent.
The resolution reaffirmed what has been the United Nations' stand on the divided holy city since 1967: that Jerusalem's final status must be decided in direct negotiations between Israel and the Palestinians.
The Trump administration made it clear the vote would have no effect on its plan to move the American Embassy from Tel Aviv to Jerusalem. And Israeli Prime Minister Benjamin Netanyahu said afterward that he completely rejects the "preposterous" resolution.
Palestinian Ambassador Riyad Mansour called the vote a victory not only for the Palestinians but for the United Nations and international law, saying U.S. Ambassador Nikki Haley "failed miserably" in persuading only seven countries aside from the U.S. and Israel to vote against the resolution.
"And they used unprecedented tactics, unheard of in the diplomatic work at the U.N., including blackmail and extortion," he said.
The United States and Israel had waged an intensive lobbying campaign against the measure, with Haley sending letters to over 180 countries warning that Washington would be taking names of those who voted against the U.S. Trump went further, threatening a funding cutoff: "Let them vote against us. We'll save a lot. We don't care."
But in the end, major U.S. aid recipients including Afghanistan, Egypt, Jordan, Pakistan, Nigeria, Ethiopia, Tanzania and South Africa supported the resolution. Egypt received roughly $1.4 billion in U.S. aid this year, and Jordan about $1.3 billion.
The nine countries voting "no" were the U.S., Israel, Guatemala, Honduras, Micronesia, Nauru, Palau, the Marshall Islands and Togo. Among the abstentions were Australia, Argentina, Canada, Colombia, Croatia, Czech Republic and Mexico.
The absent countries included Kenya, which was the fifth-largest recipient of U.S. aid last year, Georgia and Ukraine, all of which have close U.S. ties.
After the vote, Haley tweeted a photo naming the 65 nations that voted no, abstained or were absent, and said: "We appreciate these countries for not falling to the irresponsible ways of the UN."
She later sent invitations to the 65 ambassadors inviting them to a reception on Jan. 3 to thank them for their friendship with the United States.
The U.S. is scheduled to dispense $25.8 billion in foreign aid for 2018. Whether Trump follows through with his threat against those who voted "yes" remains to be seen.
But within hours, the Trump administration appeared to be backing away from its funding threats. In Washington, State Department spokeswoman Heather Nauert said cuts to countries that opposed the U.S. are not a foregone conclusion.
"The president's foreign policy team has been empowered to explore various options going forward with other nations," Nauert said. "However, no decisions have been made."
During the debate, Arab, Islamic and non-aligned nations urged a "yes" vote on the resolution, which was sponsored by Yemen and Turkey.
Yemeni Ambassador Khaled Hussein Mohamed Alyemany warned that Trump's recognition of Jerusalem undermines any chance for peace in the Mideast and "serves to fan the fires of violence and extremism."
He called Trump's action "a blatant violation of the rights of the Palestinian people and the Arab nations, and all Muslims and Christians of the world," and "a dangerous violation and breach of international law."
On Wednesday, Trump complained that Americans are tired of being taken advantage of by countries that take billions of dollars and then vote against the U.S. Haley echoed his words in her speech to the packed assembly chamber, threatening not only member states with funding cuts, but the United Nations itself.
Haley said the vote will make no difference in U.S. plans to move the American Embassy, but it "will make a difference on how Americans look at the U.N., and on how we look at countries who disrespect us in the U.N."
"And this vote will be remembered," she warned.
Trump's pressure tactics had raised the stakes at Thursday's emergency meeting and triggered accusations from the Muslim world of U.S. bullying and blackmail.
"It is unethical to think that the votes and dignity of member states are for sale," said Turkish Foreign Minister Mevlut Cavusoglu. "We will not be intimidated! You can be strong but this does not make you right!"
The Palestinians and their supporters sought the General Assembly vote after the U.S. on Monday vetoed a resolution supported by the 14 other U.N. Security Council members that would have required Trump to rescind his declaration on Jerusalem.
The resolution adopted by the assembly has language similar to the defeated measure.
It "affirms that any decisions and actions which purport to have altered the character, status or demographic composition of the holy city of Jerusalem have no legal effect, are null and void and must be rescinded."
___
Associated Press writers Suzan Fraser in Ankara, Turkey, and Joe Federman in Jerusalem contributed to this report.
Trump forges ahead on Jerusalem-as-capital despite warnings
Dec 6th, 2017
WASHINGTON (AP) — President Donald Trump will recognize Jerusalem as Israel's capital on Wednesday despite intense Arab, Muslim and European opposition to a move that would upend decades of U.S. policy and risk potentially violent protests.
Trump will instruct the State Department to begin the multi-year process of moving the American embassy from Tel Aviv to the holy city, U.S. officials said Tuesday. It remains unclear, however, when he might take that physical step, which is required by U.S. law but has been waived on national security grounds for more than two decades.
The officials said numerous logistical and security details, as well as site determination and construction, will need to be finalized first. Because of those issues, the embassy is not likely to move for at least 3 or 4 years, presuming there is no future change in U.S. policy.
To that end, the officials said Trump will sign a waiver delaying the embassy move, which is required by U.S. law every six months. He will continue to sign the waiver until preparations for the embassy move are complete.
The officials said recognition of Jerusalem as Israel's capital will be an acknowledgement of "historical and current reality" rather than a political statement and said the city's physical and political borders will not be compromised. They noted that almost all of Israel's government agencies and parliament are in Jerusalem, rather than Tel Aviv, where the U.S. and other countries maintain embassies.
The U.S. officials spoke to reporters on condition of anonymity Tuesday because they were not authorized to publicly preview Trump's Wednesday announcement. Their comments mirrored those of officials who spoke on the issue last week.
The declaration of Jerusalem as Israel's capital is a rhetorical volley that could have its own dangerous consequences. The United States has never endorsed the Jewish state's claim of sovereignty over any part of Jerusalem and has insisted its status be resolved through Israeli-Palestinian negotiation.
The mere consideration of Trump changing the status quo sparked a renewed U.S. security warning on Tuesday. America's consulate in Jerusalem ordered U.S. personnel and their families to avoid visiting Jerusalem's Old City or the West Bank, and urged American citizens in general to avoid places with increased police or military presence.
Trump, as a presidential candidate, repeatedly promised to move the U.S. embassy. However, U.S. leaders have routinely and unceremoniously delayed such a move since President Bill Clinton signed a law in 1995 stipulating that the United States must relocate its diplomatic presence to Jerusalem unless the commander in chief issues a waiver on national security grounds.
Key national security advisers — including Secretary of State Rex Tillerson and Defense Secretary Jim Mattis — have urged caution, according to the officials, who said Trump has been receptive to some of their concerns.
The concerns are real: Trump's recognition of Jerusalem as Israel's capital could be viewed as America discarding its longstanding neutrality and siding with Israel at a time that the president's son-in-law, Jared Kushner, has been trying to midwife a new peace process into existence. Trump, too, has spoken of his desire for a "deal of the century" that would end Israeli-Palestinian conflict.
U.S. officials, along with an outside adviser to the administration, said they expected a broad statement from Trump about Jerusalem's status as the "capital of Israel." The president isn't planning to use the phrase "undivided capital," according to the officials. Such terminology is favored by Israeli officials, including Prime Minister Benjamin Netanyahu, and would imply Israel's sovereignty over east Jerusalem, which the Palestinians seek for their own future capital.
Jerusalem includes the holiest ground in Judaism. But it's also home to Islam's third-holiest shrine and major Christian sites, and forms the combustible center of the Israeli-Arab conflict. Any perceived harm to Muslim claims to the city has triggered volatile protests in the past, both in the Holy Land and across the Muslim world.
Within the Trump administration, officials on Tuesday fielded a flood of warnings from allied governments.
The Jerusalem declaration notwithstanding, one official said Trump would insist that issues of sovereignty and borders must be negotiated by Israel and the Palestinians. The official said Trump would call for Jordan to maintain its role as the legal guardian of Jerusalem's Muslim holy places, and reflect Israel and Palestinian wishes for a two-state peace solution.
Still, any U.S. declaration on Jerusalem's status ahead of a peace deal "would harm peace negotiation process and escalate tension in the region," Saudi Arabia's King Salman told Trump Tuesday, according to a Saudi readout of their telephone conversation. Declaring Jerusalem as Israel's capital, the king said, "would constitute a flagrant provocation to all Muslims, all over the world."
In his calls to Palestinian President Mahmoud Abbas and Jordan's King Abdullah II, Trump delivered what appeared to be identical messages of intent. Both leaders warned Trump that moving the embassy would threaten Mideast peace efforts and security and stability in the Middle East and the world, according to statements from their offices. The statements didn't speak to Trump's plans for recognizing Jerusalem as Israel's capital.
Ahmed Aboul-Gheit, the head of the Arab League, urged the U.S. to reconsider any recognition of Jerusalem as Israel's capital, warning of "repercussions." Turkish President Recep Tayyip Erdogan told his Parliament such recognition was a "red line" and that Turkey could respond by cutting diplomatic ties with Israel.
French President Emmanuel Macron said he reminded Trump in a phone call Monday that Jerusalem should be determined through negotiations on setting up an independent Palestine alongside Israel. Meeting U.S. Secretary of State Rex Tillerson in Brussels, EU foreign policy chief Federica Mogherini said actions undermining peace efforts "must be absolutely avoided."
Despite Trump's comments to world leaders, U.S. officials said an embassy announcement wasn't seen as imminent. Instead, they said Trump on Wednesday would likely sign a waiver pushing off any announcement of moving the embassy to Jerusalem for another six months.
Trump also will give wide latitude to his ambassador in Israel, David Friedman, to make a determination on when a Jerusalem embassy would be appropriate, according to the officials. Friedman has spoken in favor of the move.
Majdi Khaldi, Abbas' diplomatic adviser, said Trump's recognition of Jerusalem as Israel's capital could end Washington's role as mediator.
"This would mean they decided, on their own, to distance themselves from efforts to make peace," Khaldi told The Associated Press in perhaps the most sharply worded reaction by a Palestinian official. He said such recognition would lead the Palestinians to eliminate contacts with the United States.
Changing Jerusalem's status would be "a stab in the back," Husam Zomlot, the Palestinians' chief delegate to Washington, told the AP.
Palestinian political factions led by Abbas' Fatah movement called for daily protest marches this week, starting Wednesday. East Jerusalem, now home to more than 300,000 Palestinians, was captured by Israel in 1967 and then annexed in a move most of the international community has not recognized.
___
Federman reported from Jerusalem.